Ransomware regularly makes the headlines. In fact, by now you've almost certainly been told that with ransomware, it's not a matter of if, but when you'll get hit.
But here's what other vendors won't admit: it's possible to prevent ransomware.
For all of the attention it gets, ransomware is still just one type of malware. That means if you're set up to predict it, you can prevent it. But if your AV vendor is relying on signatures to detect and respond to malware, it isn't preventing enough of today's attacks, and won't protect you from tomorrow's.
Learn how Cylance® can help you to prevent ransomware before you become the headline.
CylancePROTECT®
Ransomware, advanced threats, fileless malware and malicious documents are no match for the power of artificial intelligence. Replace your antivirus with the smartest endpoint security on the planet.
See how Cylance performed against five other next generation vendors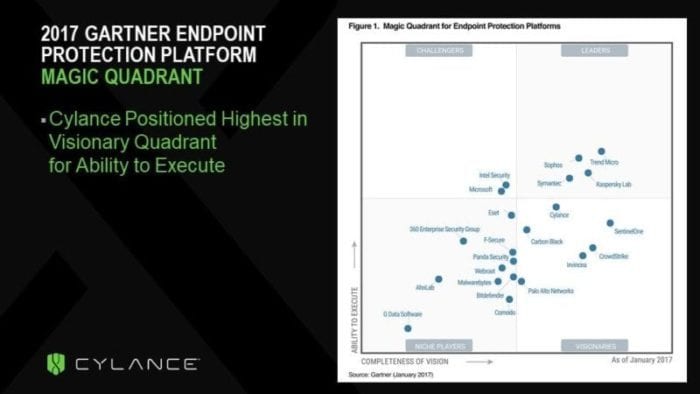 Request a CylancePROTECT Demo
How Cylance blocks WannaCry
CylancePROTECT immediately prevented the execution of WannaCry on all of our customer's endpoints. How? By leveraging machine learning and artificial intelligence to predict malicious code pre-execution without relying on a signature, heuristic ruleset, cloud connection, or any of the methods used by traditional antivirus products.
Talk to a Cylance expert today and get a demo of CylancePROTECT, the world's first AI designed to stop ransomware and advanced threats before they cause damage.