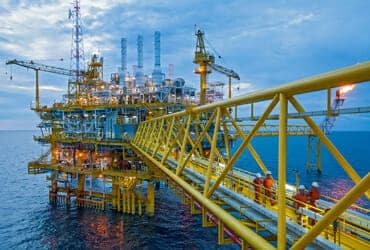 Oil and Gas IT Security. Adapting to change in the industry.   Free security analysis from Cybriant
The oil and gas industry relies heavily on connectivity between machines and data, people and processes, and devices and systems. This connectivity is great, but it also exposes your operations and assets to cyber threat.
In the oil and gas industry, cyber attacks not only threaten the operations, but safety as well. Production systems are becoming interconnected and the exposure to hackers is increasing. Keeping systems up and secure is essential. The reputation of the company, people, production and profits are at risk.
Oil and Gas respondents: Has the number of successful cyber attacks your organization has experienced increased in the past 12 months? 82% said yes. More than half (53%) of the 82% of oil and gas companies that were targeted by hackers last year state that they experienced an overwhelming upsurge in attacks. When asked how much has the rate of successful cyber attacks increased in the past month? Respondents replied 53%. What is worse is 69% of the IT professional responsible for the security measures admitted that they aren't prepared for detecting cyber attacks in a case it happens.
Cybriant can help secure your environment and reduce your risk. We offer:
IT Consulting
Infrastructure Services
Managed Support Services including Backup and Disaster Recovery
Security Protection
IT Training
We will evaluate all relevant features of your environment, identify and weight gaps in your security posture, and collaboratively provide a strategy to achieve an outcome appropriate for your business. And if desired, we can aide in the achievement of your security and business objectives by assisting you in the implementation or management of your plan.
Contact Cybriant today to learn more.
[btnsx id="272″]
Oil and Gas Tech News
[su_feed url="http://www.oilandgastechnology.net/rss.xml" limit="10″]